Sistem Rencana Anggaran Pendidikan Berbasis Sekolah (RAPBS) di Sekolah Dasar
Keywords:
Budgeding, education, RAPBS
Abstract
The education budget is a supporting tool for the implementation of education in an effort to educate human resources (HR) in the region, to have the ability to be more productive and effective in developing the region, the need for funds for routine operational activities and the development of school / madrasah programs in a sustainable manner is felt by every manager. educational institutions, therefore it is necessary to have deeper research on the implementation of the education budget in SD Ta'mirul Islam. The research method used is descriptive qualitative with interview and documentation data collection techniques and using interactive analysis. The results showed that: 1) Sources of income from Ta'mirul Islam Elementary School education include: student guardians, new student admissions (PPDB), school business, government 2) The principle of income from Ta'mirul Islam Elementary School education funds uses cross subsidies, namely not all tuition fees are the same level of each student. There are two kinds of SPP that are enforced, namely SPP Standard and SPP for Community Development. 3) Determination of the priority scale of budgeting for RAPBS education activities at SD Ta'mirul Islam, as follows: Activities of teachers and regular education personnel, student activities, the rest is for the improvement of infrastructure. 4) The process of preparing the RAPBS at SD Ta'mirul Islam is as follows ; the first is to hold a coordination work meeting with all school stakeholders. Second, each stakeholder provides a budget to the school. After that, it was followed up by the treasurer and foundation committee
Downloads
Download data is not yet available.
References
A., R., & Wardija, W. (2013). Manajemen Keuangan Sekolah: Konsep, Prinsip dan Aplikasinya di Sekolah/Madrasah. PT. ARSAD Press.
Amrizal, D., Yusriati, Y., & Perlaya, A. (2021). Membangun Minat Belajar Melalui Program Bantuan Siswa Miskin Di Smp Negeri 1 Simpang Empat Kabupaten Asahan. Scenario (Seminar of Social Sciences Engineering and Humaniora), 2001, 436–440.
Fattah, N. (2006). Ekonomi dan Pembiayaan Pendidikan. PT.Remaja Rosdakarya.
Fauzan, S., Prajanti, S. D. W., & Agus Wahyudin. (2019). The Effect of Budgeting Quality and Human Resource Competency of School Financial Performance with Information Technology as a Moderating Variables. Journal of Economic Education, 8(37), 159–166.
Hamalik, O. (2019). Dasar-dasar Pengembangan Kurikulum. PT.Remaja Rosdakarya.
Matin. (2014). Manajemen Pembiayaan Pendidikan. Rajagrafindo Persada.
Natsir, N. F., Aisyah, A., Hasbiyallah, H., & Ihsan, M. N. (2018). Mutu Pendidikan: Kerjasama Guru Dan Orang Tua. Jurnal MUDARRISUNA: Media Kajian Pendidikan Agama Islam, 8(2), 311. https://doi.org/10.22373/jm.v8i2.3315
Nurdiyanti, Y. (2021). Efektivitas Pengawasan dan Pengendalian Anggaran Belanja Sekolah Terhadap Efisiensi Biaya Pendidikan. Tadbir Muwahhid, 5(2), 167–185. https://doi.org/10.30997/jtm.v5i2.4538
Siregar, O. K., Hasibuan, H. A., & Erhan, A. Na. J. (2019). Anggaran Pendapatan Dan Belanja Sekolah Terhadap Kinerja Guru Di Smp Negeri 1 Tanjungbalai. Jurnal Akuntansi Bisnis & Publik, 10(1), 57–71.
Sofyan, Y., Ahmadi, E., & Barlian, U. C. (2021). ANALISIS PEMBIAYAAN PENDIDIKAN (Suatu Kajian Praktis Dalam Pengeloaan Anggaran Pendidikan Di Sekolah Menengah Umum). Jurnal Ilmiah MEA (Manajemen, Ekonomi, Dan Akuntansi), 5(1), 221–239. https://journal.stiemb.ac.id/index.php/mea/article/view/791
Wasono, R., Karim, A., Darsyah, M. Y., & Suwardi. (2019). Budgeting school operational assistance in Central Java using three spatial process modelling. Journal of Physics: Conference Series, 1217(1). https://doi.org/10.1088/1742-6596/1217/1/012112
Zahruddin, Z. (2019). Implementasi Penyususnan Rencana Anggaran Pendapatan Dan Belanja Sekolah. Jurnal Administrasi Pendidikan, 26(1), 46–56. https://doi.org/10.17509/jap.v26i1.19847
Pasal 46 Undang-Undang No 20 Tahun 2003
Peraturan pemerintah pasal 53 No.19 Tahun 2005 tentang Standar Nasional Pendidikan
Undang-undang Pendidikan No.20 Tahun 2003 Tentang Sistem Pendidikan Nasional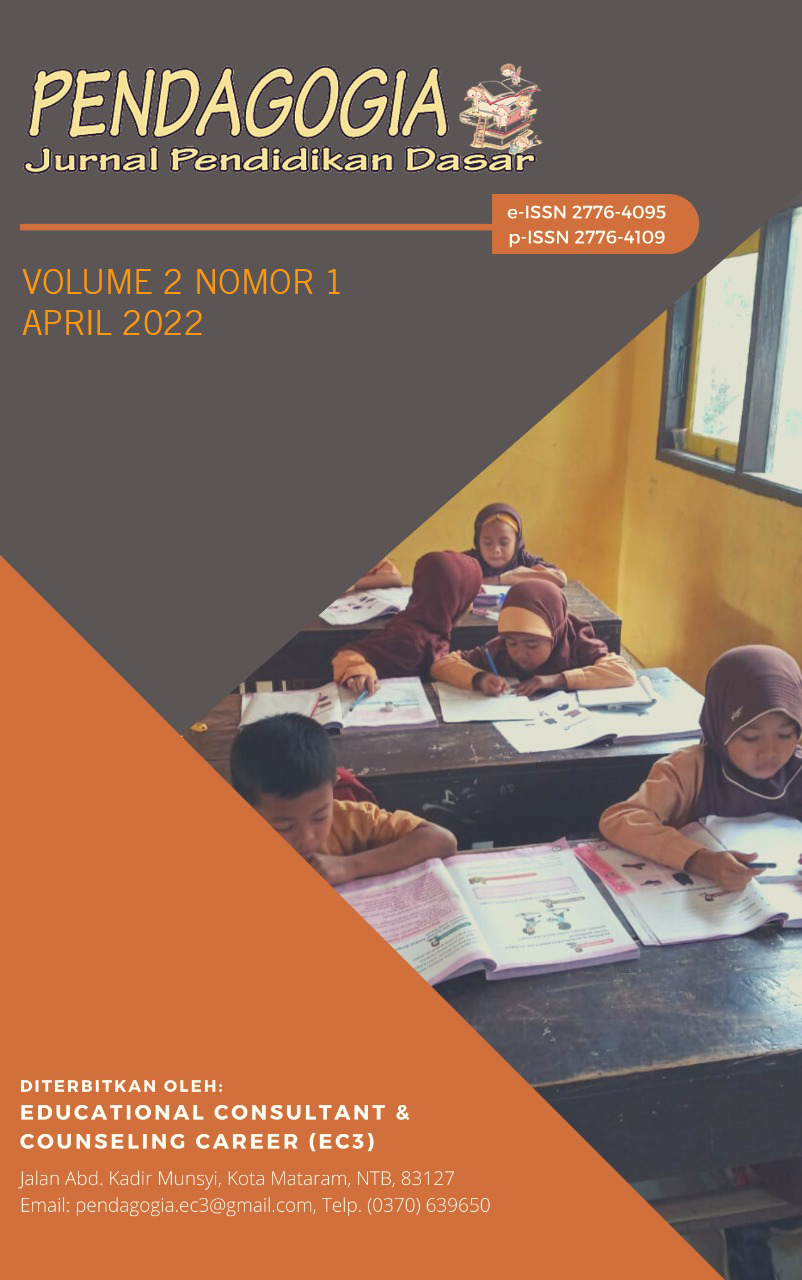 Downloads
How to Cite
Sania Alfaini. (2022). Sistem Rencana Anggaran Pendidikan Berbasis Sekolah (RAPBS) di Sekolah Dasar. Pendagogia: Jurnal Pendidikan Dasar, 2(2), 166–174. Retrieved from https://jurnal.educ3.org/index.php/pendagogia/article/view/77
License
Copyright (c) 2022 Sania Alfaini
This work is licensed under a Creative Commons Attribution-NonCommercial-ShareAlike 4.0 International License.