Identifikasi Kesulitan Guru Melaksanakan Pembelajaran Daring Pada Siswa Kelas V SDN 33 Mataram Tahun Ajaran 2020/2021
Keywords:
Teacher Difficulties, Online Learning, WhatsApp Groups.
Abstract
Online learning is an innovation in education so that learning objectives can still be achieved. However the teacher found it a little difficult because previously learning was done face-to-face (conventional). The application that is commonly used during online learning at the 33rd Mataram State Elementary School is the WhatsApp group platform. The purpose of this study was to identify the difficulties of fifth grade teachers during the use of WhatsApp groups, the effectiveness of WhatsApp groups during online learning, and the solutions of fifth grade teachers regarding difficulties during online learning. This research uses descriptive qualitative method. The data sources consist of fifth grade teachers A and fifth B with a sample selection technique in the form of purposive sampling. The data collection technique consists of observation, interviews, and documentation as well as data analysis using the Miles and Huberman model. The results showed that teacher difficulties consisted of unpreparedness with online learning, lack of student learning facilities, the WhatsApp application was the only one used, uneven distribution of quotas, obstruction distribution of learning resources, lack of apperception in learning, and lack of clarity in delivering learning materials. The use of WhatsApp groups is considered quite effective and the solution consists of teachers having to continue learning and participating in various trainings, providing quotas independently, group learning and maintaining good communication with student parents, distributing learning resources by online, material explanation with limited time and using varied media, suitability of the learning process with systematic lesson plans, and how to find out student understanding.
Downloads
Download data is not yet available.
References
Ariesca, Y., Dewi, N. K., & Setiawan, H. (2021). Analisis Kesulitan Guru Pada Pembelajaran Berbasis Online Di Sekolah Dasar Negeri Se-Kecamatan Maluk Kabupaten Sumbawa Barat. Progres Pendidikan, 2(1), 20-25.
Dewi, T. A. P., & Sadjiarto, A. (2021). Pelaksanaan Pembelajaran Daring Pada Masa Pandemi Covid-19. Jurnal basicedu, 5(4), 1909-1917.
Fatimah, D., Chan, F., & Sofwan, M. (2021). Analisis pelaksanaan pembelajaran daring pada masa pandemi Covid-19 di sekolah dasar (Doctoral dissertation, UNIVERSITAS JAMBI).
Husna, R., Roza, Y., & Maimunah, M. (2021). Identifikasi Kesulitan Guru Matematika Dalam Pelaksanaan Pembelajaran Daring di Masa Pandemi Covid-19. Jurnal Kependidikan: Jurnal Hasil Penelitian dan Kajian Kepustakaan di Bidang Pendidikan, Pengajaran dan Pembelajaran, 7(2), 428-436.
Jamaluddin, D., Ratnasih, T., Gunawan, H., & Paujiah, E. (2020). Pembelajaran daring masa pandemik Covid-19 pada calon guru: hambatan, solusi dan proyeksi. LP2M.
Kurniawan, Rizky Gilang. (2020). Pelaksanaan Pembelajaran Daring di Era Covid-19. Jawa Tengah: Lutfi Gilang.
Lestari, Wiji. (2021). Pemanfaatan WhatsApp Sebagai Media Pembelajaran Dalam Jaringan Masa Pandemi Covid-19 Di Kelas VI Sekolah Dasar. Skripsi. Fakultas Keguruan dan Ilmu Pendidikan. Pendidikan Anak Usia Dini dan Dasar. Universitas Jambi.
Sugiyono. (2019). Metode Penelitian Pendidikan Pendekatan Kuantitatif dan Kualitatif dan R&D. Bandung: Alfabeta
Susanto, Ahmad. (2016). Teori belajar dan Pembelajaran di Sekolah Dasar. Jakarta: Prenadamedia Grup.
Susilowati, Eka. (2020). Bagaimana Pembelajaran Daring di Tengah Wabah Covid 19 melalui Grup WhatsApp. Jurnal Pendidikan Matematika Raflesia. Vol 5 (3). 1-25.
Yuliani, Meda dkk. (2020). Pembelajaran Daring untuk Pendidikan: Teori dan Penerapan. Yayasan Kita Menulis.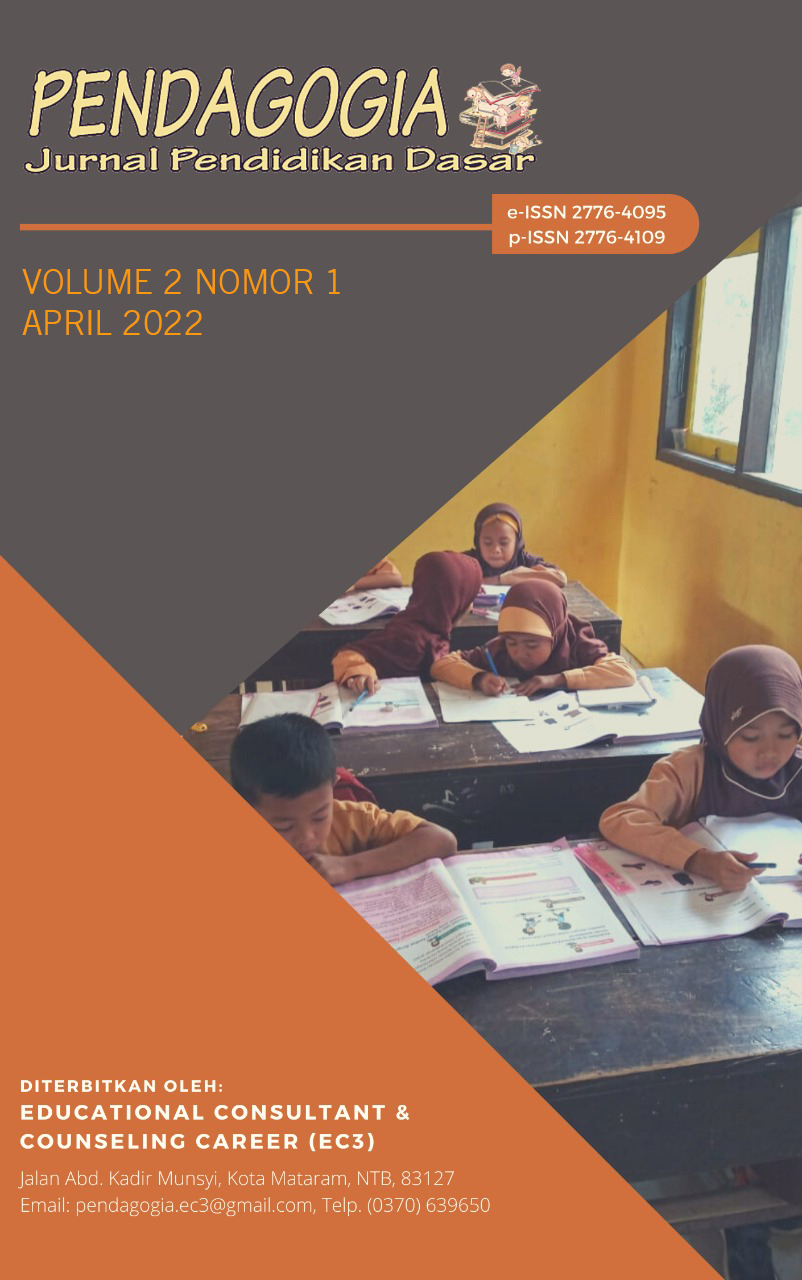 Downloads
How to Cite
Liza Handayani, Karma, I. N., & Istiningsih, S. (2022). Identifikasi Kesulitan Guru Melaksanakan Pembelajaran Daring Pada Siswa Kelas V SDN 33 Mataram Tahun Ajaran 2020/2021. Pendagogia: Jurnal Pendidikan Dasar, 2(1), 27–34. Retrieved from https://jurnal.educ3.org/index.php/pendagogia/article/view/40
License
Copyright (c) 2022 Liza Handayani, I Nyoman Karma, Siti Istiningsih
This work is licensed under a Creative Commons Attribution-NonCommercial-ShareAlike 4.0 International License.