Hubungan Keterampilan Bertanya Guru dengan Motivasi Belajar Siswa Kelas V SDN 1 Dasan Baru Tahun Ajaran 2021/2022
Keywords:
Skills asking teachers, student learning motivation
Abstract
This study aims to find out if there is a relationship between the skills of asking teachers and the motivation of learning students of class V SDN 1 dasan New School Year 2021/2022. This research is quantitative research with correlational methods. The population in the study is students of class V SDN 1 Dasan Baru numbering 61 students. The sample used in this study was quota sampling so researchers used 30 students as research samples. The data collection technique in this study used questionnaires. The data is analyzed with the help of SPSS version 16. The description of the teacher's asking skills level and student learning motivation was analyzed using descriptive analysis, and for the hypothesis test the study was analyzed using the Perason Product Moment formula with the help of SPSS version 16. Rhitung value of 0.669 then large rtabel 0.361 in the level of significance of 5% which means there is a significant and positive relationship between the teacher's questioning skills and the motivation of learning students grade V. Based on the interpretation guidelines on the coefficient of Sugiyono (2018: 257) the rhitung value of 0.669 is at intervals 0.60-0779 shows a strong relationship.
Downloads
Download data is not yet available.
References
Hamalik, Oemar. (2014). Psikologi Belajar dan Mengajar (Membantu Guru Dalam Perencanaan Pengajaran, Penilaian Perilaku dan Memberikan Kemudahan Kepada Siswa Dalam Belajar.Bandung : Sinar Baru Algesindo.
Nurdiansyah, N., Johar, R., & Saminan, S. (2019). Keterampilan Bertanya Guru SMP dalam Pembelajaran Matematika. Jurnal Peluang, 7(1), 44-54.
Nurramadhani, A. (2019). Profil kualitas keterampilan bertanya mahasiswa calon guru dalam pembelajaran sains. Pedagonal: Jurnal Ilmiah Pendidikan, 3(2), 1-9.
Prilanita, Y. N., & Sukirno, S. (2017). Peningkatan Keterampilan Bertanya Siswa melalui Faktor Pembentuknya. Jurnal Cakrawala Pendidikan, 36(2), 244-256.
Riduwan. (2012). Skala Pengukuran Variabel Penelitian. Bandung: Alfabet.
Ronny, Kountur. (2009). Metode Penelitian Untuk Penulisan Skripsi dan Tesis.Jakarta : Buana Printing.
Sapa'at, Asep. (2018). Stop Menjadi Guru. Jakarta : Katalog dalam Terbitan (KDT).
Sardiman. (2014). Interkasi Dan Motivasi Belajar Mengajar. Jakarta:Rajawali Pers.
Slameto. (2015). Belajar dan Faktor-faktor yang Mempengaruhi. Jakarta: Rineka Cipta.
Sugiyono. (2017). Metode Penelitian Kuantitatif, Kualitatif, dan R&D. Bandung : Alfabet.
Suhaeningsih, Cucun. (2018). Pembelajaran Mikro. Sumedang : UPI Sumedang Press.
Syarifuddin. (2019). Sukses Mengajar di Abad 21 (Keterampilan Dasar Mengajar dan Pendekatan Pembelajaran K13). Ponorogo : Uwaus Inspirasi Indonesia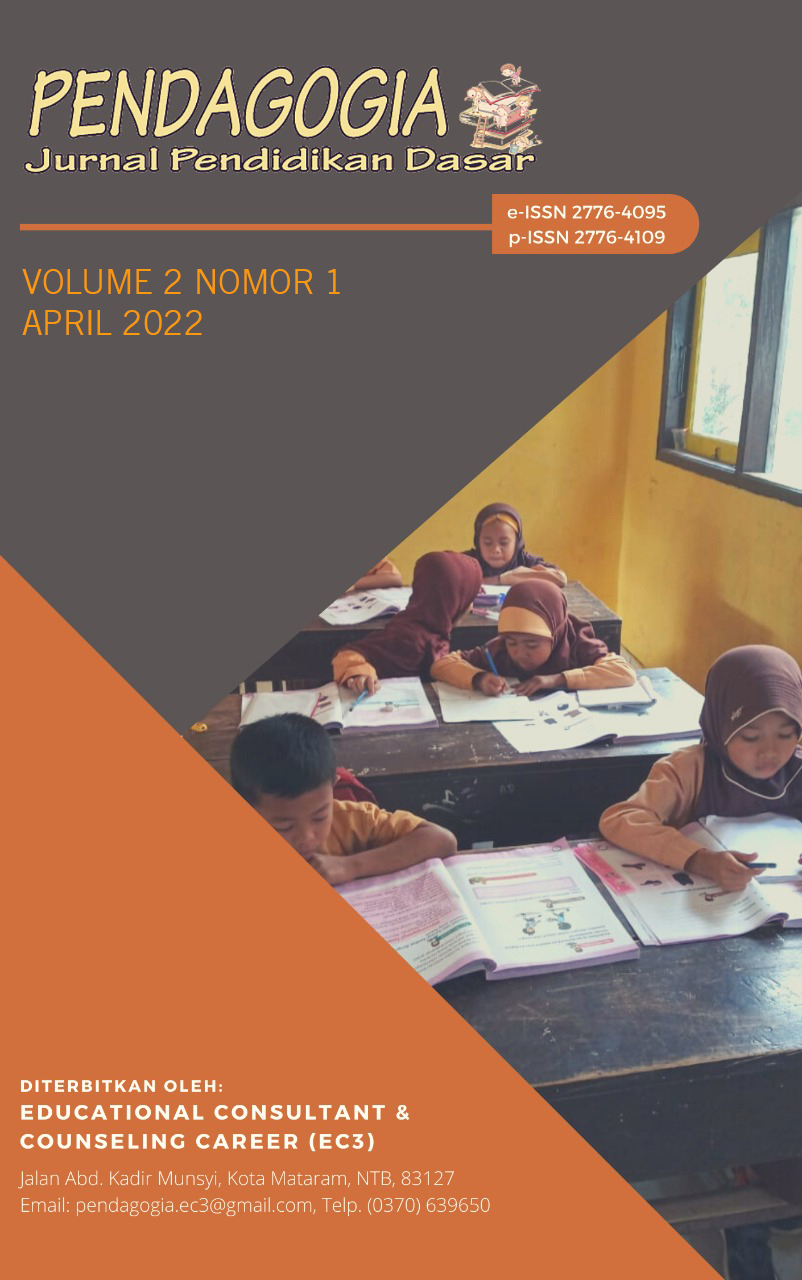 Downloads
How to Cite
Rahmawati, R., Darmiany, D., & Saputra, H. H. (2022). Hubungan Keterampilan Bertanya Guru dengan Motivasi Belajar Siswa Kelas V SDN 1 Dasan Baru Tahun Ajaran 2021/2022. Pendagogia: Jurnal Pendidikan Dasar, 2(1), 55–60. Retrieved from https://jurnal.educ3.org/index.php/pendagogia/article/view/45
License
Copyright (c) 2022 Rina Rahmawati, Darmiany Darmiany, Heri Hadi Saputra
This work is licensed under a Creative Commons Attribution-NonCommercial-ShareAlike 4.0 International License.